Oh, It's Christmas
Final...very final update coming soon..
---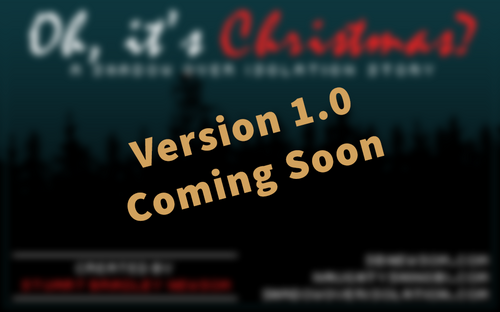 First and foremost, just wanted to also announce that I just opened up a personal Itch.io for future personal and itchio game jam projects. If you like this game, consider giving me a follow to keep current with what else i'm working on.
It's been what, 5+ years since I released this little mini-game to Itch.io. So many streams, messages, compliments, criticisms. It wasn't until January 1st 2020, when it was brought to my attention that Markiplier played my game, when I realized I wanted to do a bit more for the game before I put it to rest. Was he scared? Confused? Most definitely the latter.
The lot of you seemed to have enjoyed it and I've been mauling over whether or not I should give it want last look over. Shadow Over Isolation has been the most ambitious project I've worked on. Hell, 100x more ambitious with the fact that I'm doing it all solo...but it's a passion project. Something I don't want to skimp on or half ass. Hell, as disastrous as 2020 was, I have been the most active and satisfied with the work i've put into it.
Its now 2021, and I know it's well over a month past christmas. (I know, missed opportunity, but life has been hectic). So now, i'm announcing, the final version of Oh, It's Christmas will be releasing at the end of Q1 2021.
Some of the more notable additions to this final version...
20 minutes total playtime. I wanted to bring in more content for the sake of it, since there's been a lot of headway over on Shadow Over Isolation's side.
Lots more to interact with. I wanted to bring in some more depth. A hint of more scares. And who knows...the outcome might be different.
New Graphics. It's been a long time coming...and I felt the game could use a visual overhaul. Less marketing, more standalone adventure.
YOU CAN NOW MUTE THAT GAUDY MUSIC! Yes...you'll be able to mute it...just not in a conventional way.
PC Game Discs...have a bit more going for them now. The only game that will break the computer will be the Final Prototype.
One last thing i'm still trying to figure out is whether or not I want voice acting. It's a nicety, but i'll leave that up to motivation and time constraints.
Have a good one everyone!
-Stuart Bradley Newsom